The leadership of Maysville Baptist recognizes the authority of God, and realizes that we are shepherds who serve under the Chief Shepherd, Jesus Christ. We desire to devote ourselves to prayer and to the ministry of the Word. Our passion and goal is to raise up and deploy equipped, mature, fully devoted followers of Christ for the sake of family, community and global transformation.
Meet our Senior Pastor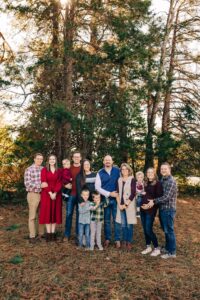 Westly Yoder has served as Pastor since July 2016. The Lord called Westly to Maysville from the mission field in South Asia where he had served through the International Mission Board with his family since 2006. He received his degree from the Wilmington School of the Bible at Liberty University. A resident of Buckingham since 1993 and member of Maysville Baptist since 1999, Westly has a deep sense of calling and purpose to the community. Westly and his wife, Donielle have three children and four grandchildren. Pictured from left are son Wyatt and his girlfriend Abby, son-in-law Micah holding Anna Cait, daughter Caitlin with sons Alton & Gideon, Westly, Donielle, daughter Jessica holding Ezra, and son-in-law Joshua highlighting baby Audrey (born 2/7/23).
Meet our Associate Pastor of Youth and College Students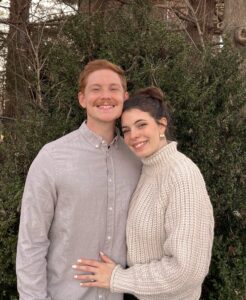 Cameron Webb has served as our Associate Pastor of Youth and College Students since November 2021. The Lord called Cameron out of college to serve at Maysville Baptist. He received his degree in Camp and Outdoor Adventure Leadership & Biblical Studies from Liberty University. He has served in both camp and church ministries. Cameron feels a deep sense of calling to Youth Ministry and specifically to the youth of Buckingham County. Cameron and his wife, Morgan, have been married since 2019. They have one daughter, Sabrina.