Sunday, February 16, 2020 at 6:00 p.m.
An important part of community transformation is honoring those who serve. We will be hosting a dinner on Feb. 16th to honor Buckingham First Responders. If you are a First Responder, we would like to invite you and your family to attend. To RSVP please go to the Maysville Baptist Church Facebook page and respond to the Hometown Heroes event or you can call the church office at (434)969-4657.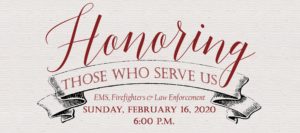 UPWARD Basketball Closing Ceremony
Saturday, February 22, 2020 at 6:00 p.m.
Join us for the Closing Ceremony of our UPWARDS Basketball season. This year we had over 90 children who participated. We invite players, their family members and friends to join us for this fun time to close out the season!
MOPS of Buckingham (Mothers of Preschoolers)
Every Second and Fourth Wednesday of the Month from 9:30 – 11:30AM at the church (follow signs to the Office)
Maysville is excited to announce that we are starting a MOPS (Mothers of Preschoolers) chapter in Buckingham. The meetings will be at the church and childcare will be provided for the cost of $5 per family (not per child). All mothers of children from birth to Kindergarten in Buckingham & the surrounding areas are invited to attend. There is a $31.95 yearly fee with scholarships available if needed. Please contact the church office at (434)969-4657 if you have questions
.
Every Friday at the Carter G. Woodson Complex, Elementary Cafeteria from 3:15 – 5:00

PM,
February 7 – March 20, 2019 (March 13 – school closed, no club meeting)
The Good News Club is an after school program sponsored and conducted by Maysville Baptist Church. Children in grades K – 5 are invited to attend this club that includes Dynamic Bible Lessons, Creative Learning Activities, Inspiring Missionary Stories, Meaningful Songs and Life-Changing Scripture Memory. During Club children will learn Bible Principles, Character Qualities, Respect for Authority and Moral Values. The Club is led by specially trained Christians who are concerned for the spiritual well-being of the children of Buckingham. All Club workers are screened as required by CEF's Child Protection to ensure children's safety. Registration Forms will be available in January 2020.