Every Wednesday from 6:30 – 7:30 p.m.
and Special Event times each month
We welcome any child in K – 6th grade to join in us for a fun time of learning from God's Word and having fun together!
UPWARD Basketball for K – 5th grade
Every Saturday in January & February
IGNITE Kid's Ministry Grand Prix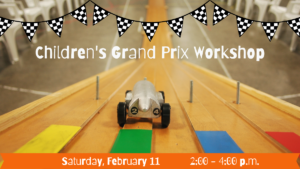 Saturday, February 11 from 2:00 – 4:00 p.m.
All children in K – 6th grade are invited to come and participate in a Grand Prix workshop. This workshop will help you be ready for the BIG race next month!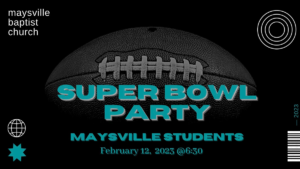 MBC Student Ministries Super Bowl Party
Sunday, February 12 at 6:30 p.m.
All students in Youth and the College & Career group are invited to watch the Super Bowl together. There will also be games and great food! See Cam for more information!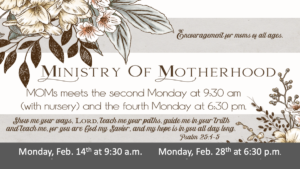 Ministry of Motherhood
–
A group for Mothers
Every Second an
d Fourth Monday of Each Month
We welcome any Mother to join in for a time of Encouragement
Every Second Monday of the month at 9:30 a.m.
Every Fourth Monday of the month at 6:30 p.m.
Nursery provided for each meeting.
Call (434)969-4657 if you have any questions.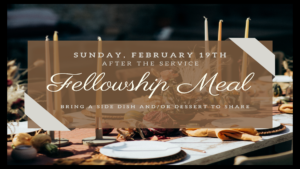 Sunday, February 19th immediately after the Worship Service
Everyone is invited to come and enjoy a meal together after the Worship Service. The main dish and beverages will be provided, however everyone is asked to bring a side dish and/or dessert.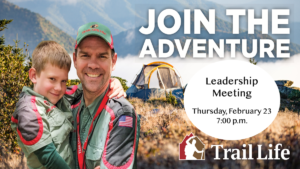 Trail Life for Boys & Young Men
The Trail Life ministry to boys and young men is currently in development at Maysville. If you would like to learn more about Trail Life, please visit this link https://www.traillifeusa.com/
More information will follow as this ministry progresses.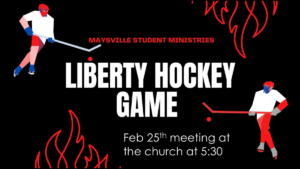 MBC Student Ministries Outing
Saturday, February 25th at 5:30 p.m.
A
ll Student Ministry members are invited to a
Liberty University Hockey Game!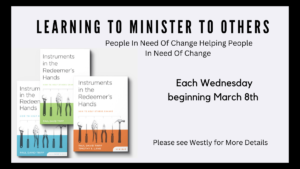 Discipleship Opportunity – Learning to Minister to Others
Instruments in the Redeemer's Hands – by Paul David Tripp
– People in Need of Change Helping People in Need of Change –
Each Wednesday beginning March 8th 6:30 – 7:30 p.m.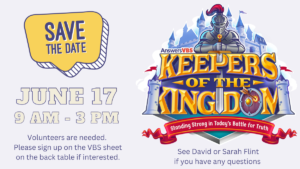 VBS 2023 – Keepers of the Kingdom
Mark your calendars for VBS Day Camp 2023!!
Saturday, June 17th 9:00 a.m. – 3:00 p.m.
for children 4 years old to 6th grade