June 22 – 28, 2019 to Northeastern Bible College in Bennington, VT
Come and serve in a state where less than 2% are Christian.
Sunday, June 30, 2019 immediately after the service. Service starts at 11 a.m.
All are welcome to join in on the FUN at the First Annual MBC Field Day! Enjoy a cookout and old-fashioned games for the entire family including a TURTLE RACE for all ages! So, grab your lawn chair, some comfy clothes and a turtle or two and head on over for a great afternoon of family fun.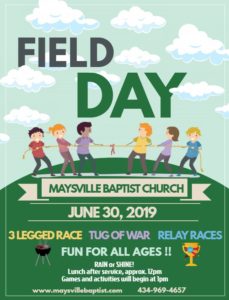 Co-Ed Basketball Camp hosted by Buckingham County Recreation at Maysville
July 8 – 11, 2019, 9:00

AM

– 1:00

PM
at Maysville Baptist Church Gym for ages 7 – 14 years. To register through the county, click
– REGISTER HERE by June 28th!

Cost is $30.00 For questions, contact Tiffany Ownby, Buckingham Recreation at 434-969-4242 or email townby@buckinghamcounty.virginia.gov
MOPS of Buckingham (Mothers of Preschoolers)
Wednesday, July 17 & 31, 2019 at 9:30

AM

at the church (follow signs to the Office)
Maysville is excited to announce that we are starting a MOPS (Mothers of Preschoolers) chapter in Buckingham. The meetings will be at the church and childcare will be provided. All mothers of children from birth to Kindergarten in Buckingham & the surrounding areas are invited to attend. There is a $10 monthly fee with scholarships available if needed. Please contact the church office at (434)969-4657 if you have questions
.
SBCV Partnership with South Asia to reach a UUPG with the Gospel
July 23 – August 1, 2019 Pastor Westly has joined with SBCV Mission Strategist, Brad Russell to bring area churches together in a partnership to impact God's Kingdom work in South Asia! Did you know that there are entire groups of people in South Asia who have no known believers among them and no one is actively trying to engage them in a Gospel conversation? Did you know that these people groups are comprised of MILLIONS of people? Without the sacrifice to go and tell them the Good News of Jesus Christ, they may never hear
COMING in August!! Be on the lookout for the 2nd Annual WATERWORKS & WONDERS for children!!
COMING in September!! Buckingham Heroes Luncheon